This year, I did not have the opportunity to go to San Francisco to attend Dreamforce. But as Robert Gustafsson says when he plays Tony Rickardsson: "I'm not bitter!" (I am well aware that this reference doesn't make any sense what so ever if you have not been watching Swedish television). I've been to the conference several times before, but this year I regret that I did not go. I have therefore done my best to follow the conference at a distance. In this article I summarize the highlights experienced at almost 9000km away.
A few days before the conference, Sales Sales CEO, Marc Benioff, tweeted the following tweet:
Say hello to Einstein Voice. Now anyone can talk to @Salesforce.

This product is going to blow your mind! ? #DF18 pic.twitter.com/DXmQ8F441D

— Marc Benioff (@Benioff) September 22, 2018
Einstein Voice Assistant and Einstein Voice Bots
This is clearly one of the highlights and it will be talked a lot about. Einstein Voice Assistant is a product that allows you to control your Salesforce with the help of your voice. After a sales meeting, you will have the opportunity to dictate your notes for Einstein and it will save them to the right object within Salesforce. You can also ask the system to change objects – e.g. to change the status, end date or amount of a sales opportunity. This is a typical product or feature that will allow your CRM users to use the system more.
When Einstein Voice is released, it also comes with a new service called Einstein Voice Bots. This should be used in contact with end customers. A clear scenario is in a customer service environment. Instead of using chatbots, users can now also talk to the system. It should also be possible to pair Einstein Voice Bots with other voice recognition bots like Apple Siri, Amazon Alexa or Google Assistant.
Much of what is featured on Dreamforce is products and services that will be released in the future. Einstein voice is expected to be generally available in 2019.
Dreamforce highlight: Collaboration with Apple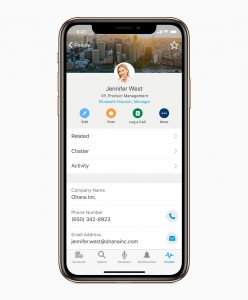 Since we already mentioned Apple, we can can continue on to mention the new collaboration with Apple. This became a great area for discussion during the first days of Dreamforce. It was difficult to get clear information from the various reports I found from the event – Apple's Press Release describes the collaboration in the best way.
The highlights of this are that Salesforce will release a new and improved version of its Salesforce Mobile SDK – a software library used for mobile application development. This should be optimized for Swift, which is the programming language used for Apple's iOS environment.
In addition, Salesforce will release a new Trailhead application for iOS. Trailhead is Salesforce platform for education. The press release says it will be released first for Apple iOS – not that it will be exclusive so we can safely expect that the Trailhead application will also be available for Android. But maybe some what later. Salesforce will also change its Salesforce application for iOS to work better with Siri and other Apple features. This is a clear way for Apple to remain one of the top mobile devices for business users.
For developers, Salesforce has now created a Trailhead module to educate how to get started with iOS development. The module was available already when Dreamforce started. Also this was one of the points in Apple's press release.
Salesforce Customer 360
I think it's a little strange that in 2018 Customer 360 becomes such a big topic – this is a concept and the main reasons for using CRM systems from the very beginning. But then what's new with this? There are challenges especially in the Business to Consumer (B2C) world. Data is available in many different systems. Everything from e-commerce and marketing automation to business and billing systems. With the help of technology from Mulesoft, a company that Salesforce bought during the spring, one can easily connect data from all these systems and build a profile of its users.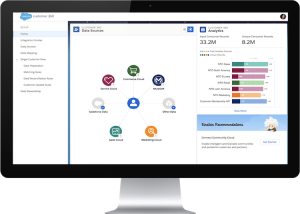 By granting a unique ID to a user, Customer 360 can be used as a hub and make the user profile available in the various applications at the time of need. When considering this from a GDPR perspective, this can facilitate the management of user data, as you have an overview of where you have customer data and how you use it.
Salesforce and Google collaboration from Dreamforce 17
This was an area that was not too much talked about during this year's Dreamforce. But I still think it's worth looking a little closer at what is happening here. It will now be possible to purchase Google Analytics 360, Optimize 360, and Tag Manager 360 directly from Salesforce in the U.S. and Canada. But what's even more interesting is that you can now connect Analytics 360 to Salesforce SalesCloud. Data from Google can then be used by Einstein lead scoring. You should also be able to import e-commerce data directly into the Analytics 360 platform to get a more holistic view of your customers.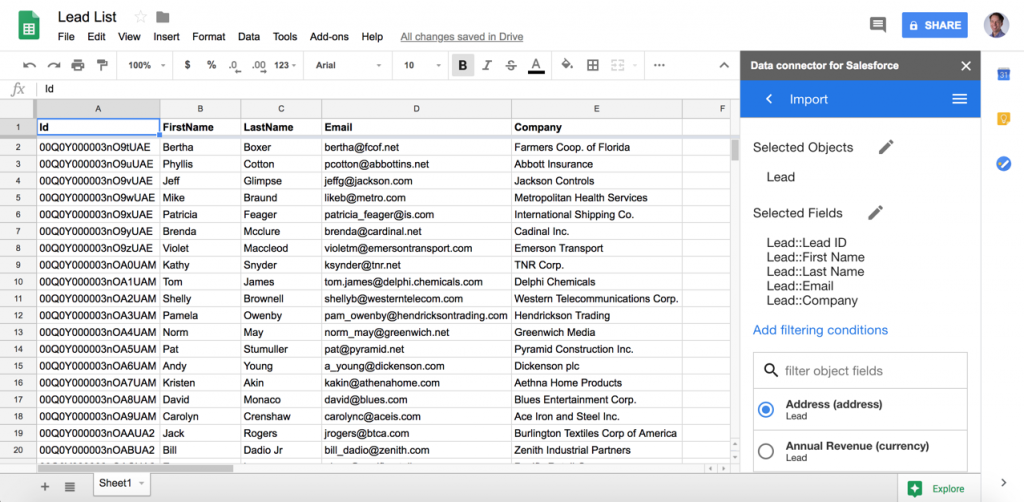 As a major Google Apps user, I became mostly interested in the new "Data Connector for Salesforce". With this Add-on to Google Sheets, you can, with a few simple clicks, import data from your Salesforce environment into Google Sheets. You can do this from a report or by creating a SOQL-query. It is also possible to update data or delete data based on information in Google Sheets. These are features that are available already now. The road map also includes the function of retrieving data from a list views. This will not be available until 2020.
These were some of the highlights I could see at a distance. I clearly missed mingling and discussing these new features with other users directly at the conference in San Francisco. For me, Google Sheets Add-on is clearly what I liked most in the short term, but I'm also looking forward to testing the Einstein Voice Assistant for real. Which feature do you look forward to?
This article is a translation of the original posted in Swedish back over at the CRM Bloggen site.