When you frequently work with web-based applications, such as Salesforce, you may run into small things that annoy you. It might be that you work in multiple environments—such as a sandbox for testing and development vs. a production environment—and occasionally get them mixed up. By mistake, you may make changes to a production environment that were intended for the sandbox.
One way of fixing this can be to use extensions in your web browser. These can be small, meant to tweak one specific problem, or toolboxes than can greatly increase the overall functionality of your web browser.
In this article, I have listed the five most useful chrome extensions—at least according to me!
Salesforce ORGanizer
First out, we have the Salesforce ORGanizer. If you are working as an administrator or a developer, this is a must-have toolbox extension.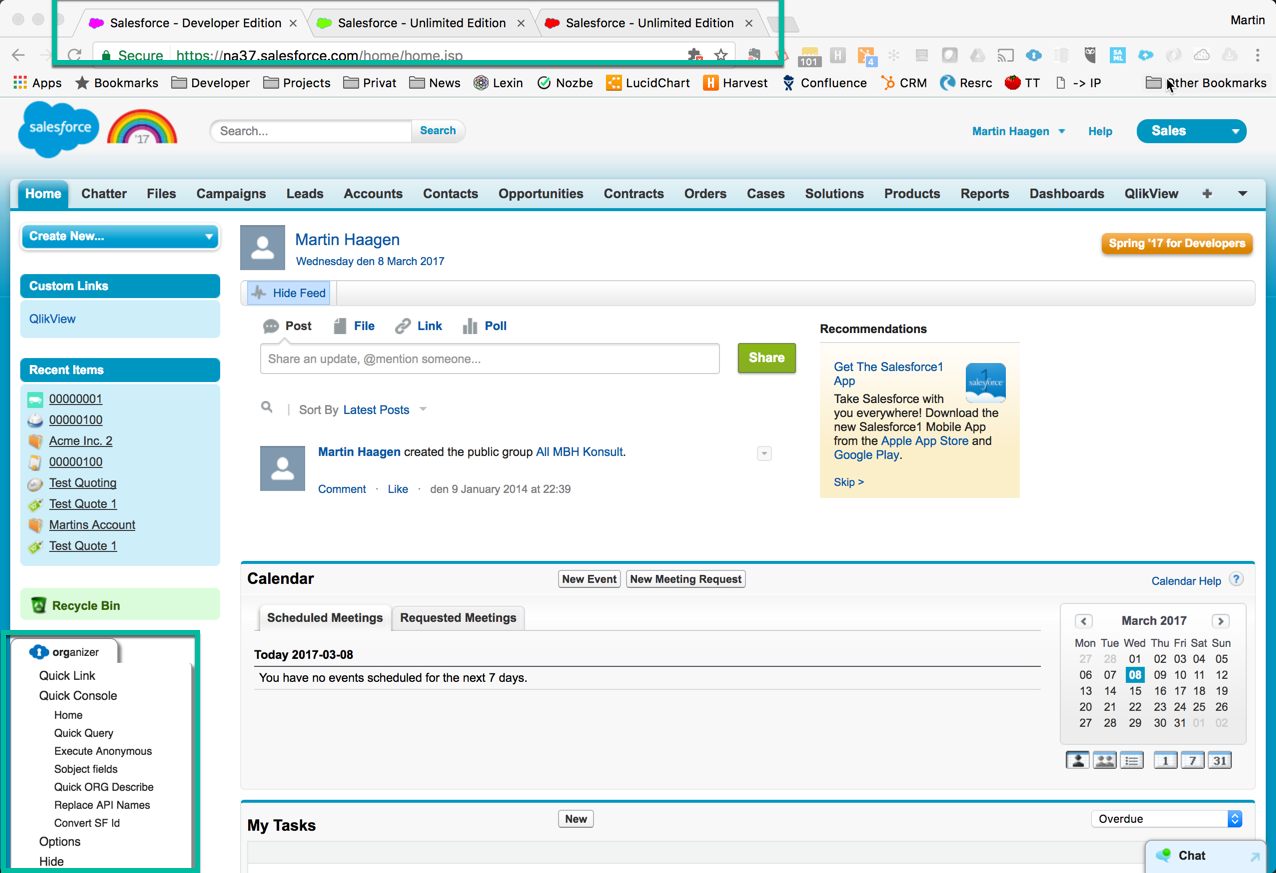 The main reason I like this extension is because it colors the tab depending on the environment in which you are working. I usually mark my production environments as red and sandboxes as green. This way, I can easily differentiate between production and development settings.
There is also a handy menu in the bottom left of your browser where you can easily find tools like Anonymous APEX, quick SOQL query, and my favorite, a tool that allows you to convert 15 characters IDs to 18 characters. I previously used the Force.com Utility Belt for this specific task, but with Salesforce ORGanizer in my browser, I no longer need it.
In contrast to most other extensions I have used, this one works well in both Salesforce Classic and Lightning Experience, whereas most only work with Classic.
Salesforce Change Set Assistant
Have you been working in an Salesforce org with hundreds of classes and feel the pain of creating change sets? If so, then the Salesforce Change Set Assistant will make your life a lot easier.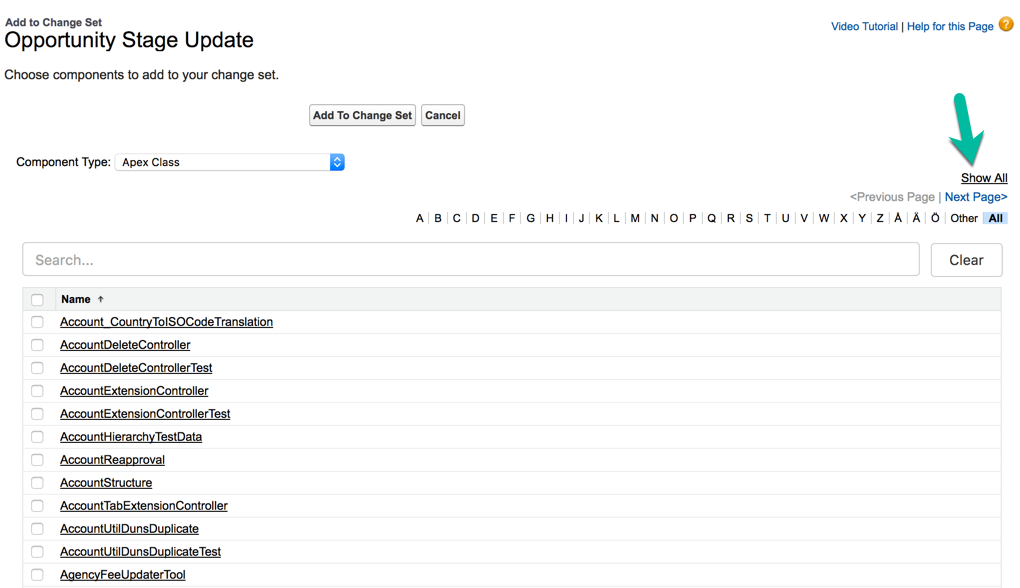 This is a small extension that simply extends the screen where you add components into your change set. You choose, as usual, the component type; however, with Salesforce Change Set Assistant, the next step is a bit different. If you have more classes than will fit on a regular page, you can now click on a link called "Show All," located to the right. This will load all the available classes into your view.
That's not all. You are also provided with excellent search capability, which helps you quickly search through the list and locate the components you want to add. This extension has saved me so much time!
Salesforce advanced Code searcher
The Salesforce advanced Code searcher is a small tool that gives you some handy functionality in the Salesforce Setup menu.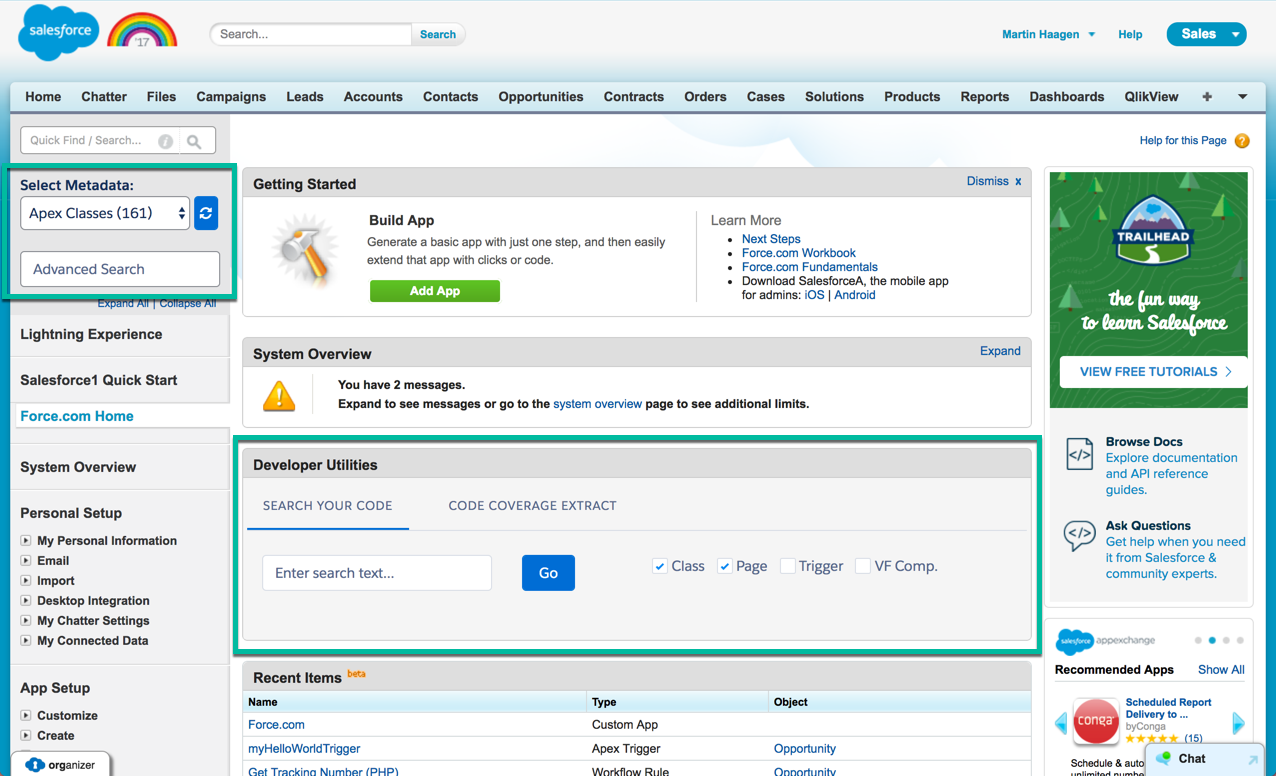 On the left-hand side, you now get a new search box, which you can use to quickly locate and open certain metadata types, such as Classes and Triggers.
On the Setup start page, you also get a new section where you can explore code coverage. But in my opinion, the best feature can be found on the debug log page. With a simple click from the debug log list, you can now renew the time for a log session. This will save you a couple of clicks. The extension will also help you delete old log entries, since it adds a button called, "Truly, Delete All." These are small things, but they are great additions to the interface.
Salesforce Data Exporter
This is a small, very specialized extension that gives you the ability to download data in list view to CSV files. It's handy if you need to filter and export data into Microsoft Excel, for example.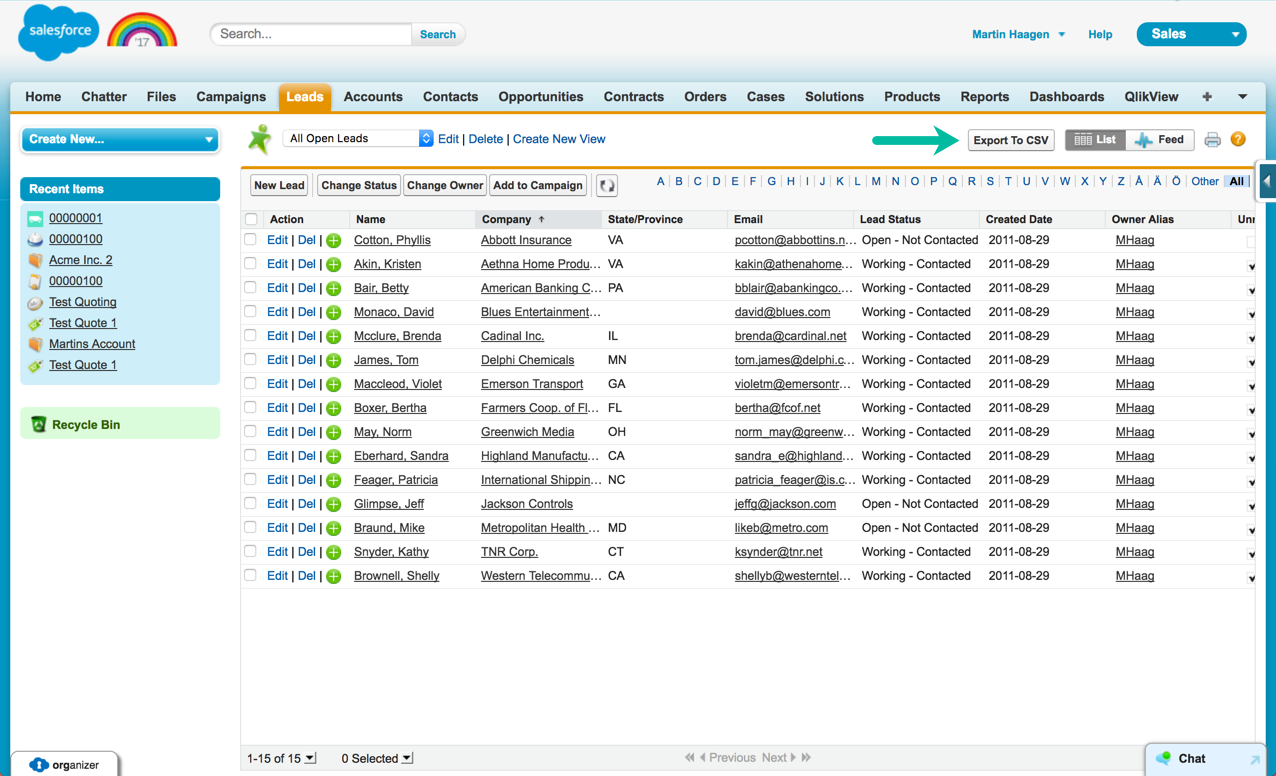 Unfortunately, Salesforce Data Exporter does not currently work in Lighting Experience.
Salesforce Lightning for Gmail
Last but not least is the brand new Salesforce Lightning for Gmail extension, which came out as a beta in the Salesforce Spring '17 release. This is an extension that has been provided by Salesforce and is exposing Salesforce data in Gmail.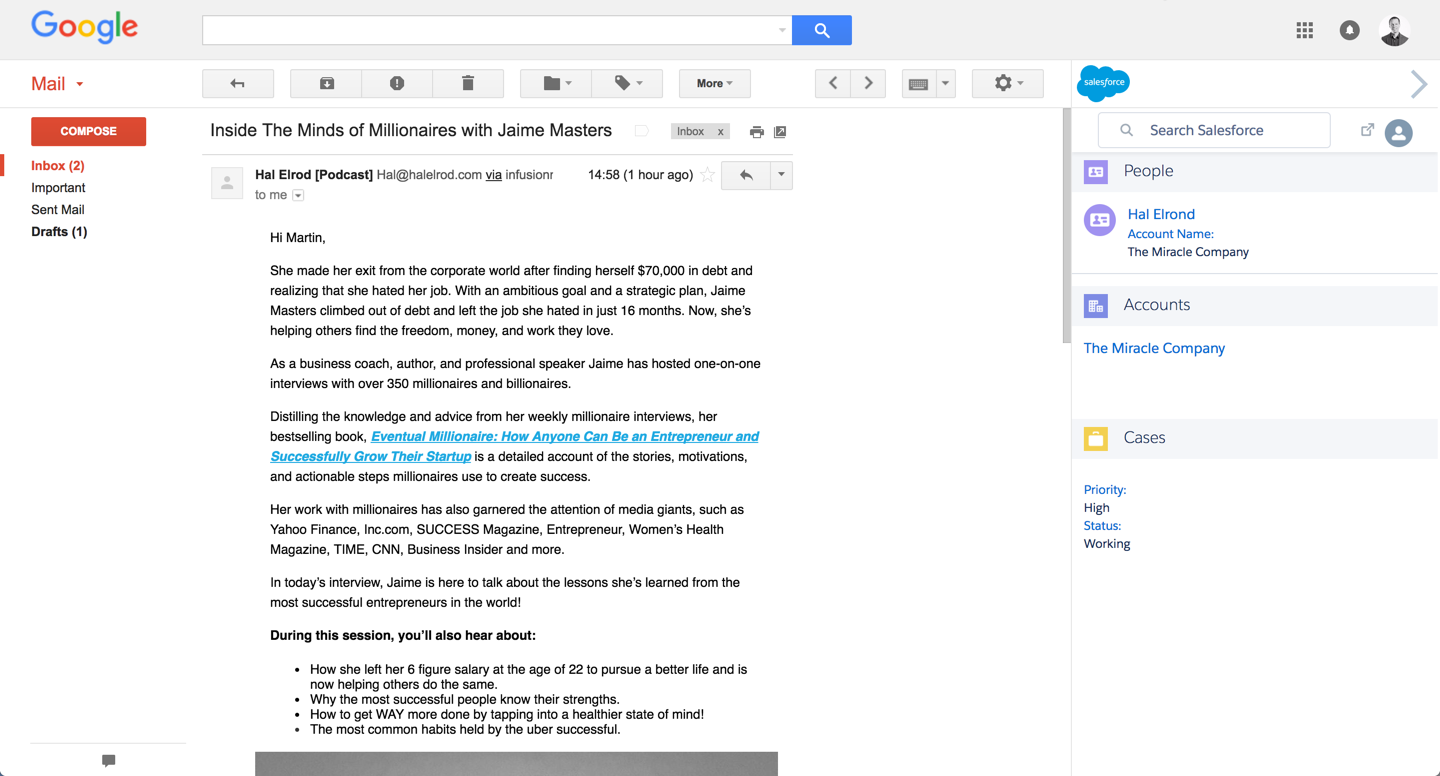 This is a tool that is mainly intended for sales and service representatives who work in Gmail and want to be able to view CRM data within their email inbox. Plugin functionality must be enabled in the Salesforce org before this extension can be used; however, this requires only a small setup process and shouldn't be a problem.
This tool does not connect your email to data in Salesforce or track the messages you send. For this, you need to use the Salesforce Inbox extension from Salesforce, which requires specific licensing/functionality in your Salesforce org. There will be more about these tools in later blog posts.
Have I missed an extension that you love? Leave a comment below, and I will happily try them out!